10 Solo Swim crossings, 1 duo crossing, 2 team crossing of Rottnest Channel Swim
Female record holder of Rottnest Channel Swim
Overall winner of 1992 Rottnest Channel Swim at age 14
Numerous WA Pool State Records over 33 years
Inducted into International Marathon Swimming Hall of Fame in 2017
Coach for Open Water Swimmers, Master Swimmers, Triathletes & Junior Swimmers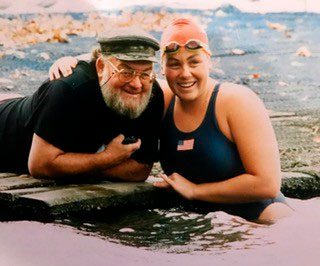 Ambassador Profile

Q. Why did you decide to sign on as an ambassador of the Busselton Jetty Swim?
A. This is such iconic swim, I love the unique setting and the many different ages and abilities that the swim can incorporate.
Q. How many times have you swum the Busselton Jetty Swim?
A. Last year was my first year I could be involved, my son swam last year for his first children's swim too. I had wanted to do this swim since I was younger however National swimming commitments kept me from competing.
Q. What is your biggest challenge with the Busselton Jetty Swim?
A. Being distracted by swimming around the Jetty and the bottom of the ocean, last year was so clear to see so many things.
Q. In your eyes, what makes the Busselton Jetty Swim so special?
A. The community atmosphere and the iconic Jetty itself, was a great entertaining weekend.
Q. What do you admire about the people that tackle the Busselton Jetty Swim?
A. Courage and these people come from all walks of life and abilities and not necessarily seasoned swimmers but they all have the same goal to swim around the Jetty.
Q. What did you enjoy most about the event?
A. The atmosphere and its beautiful and iconic location.
Q. What did you enjoy most about the South West?
A. The beautiful location and the beaches. I enjoyed the friendly atmosphere of the community.
Q. Has the Busselton Jetty Swim inspired you to continue/take up swimming?
A.  I have enjoyed encouraging my swimmers that I coach both the younger and older to swim the event. test
Q. Do you have any advice for the BJS swimmers?
A. Enjoy the atmosphere and the environment.
Q. What are your future goals?
A. To have most of my squad swim this iconic event and make it a tradition. Our squad has also planned a Junior English Channel Relay.