Member of Superfins WA and Special Olympics WA
Has swum Busselton Jetty Swim 10 times
Represented Australia at the Special Olympics World Games in 2011 in Athens in Softball
Represented Australia at the Special Olympics Word Summer Games in 2015 in Los Angeles in Open Water Swimming
Represented Western Australia at the Special Olympics National Game in 2018 in Open Water Swimming
Sits on the Special Olympics WA State Sporting Working Group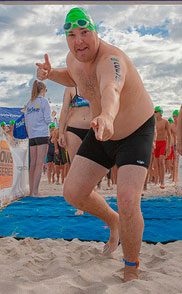 Ambassador Profile

Q. Why did you decide to sign on as an ambassador of the Busselton Jetty Swim?
A. I really enjoy doing the Busselton Jetty Swim. I enjoy all the fun weekend activities offered. I always like meeting lots of swimmers and forming friendships with them over several years. I also want to encourage people with disabilities to join the swim and to meet new people as well.
Q. How many times have you swum the Busselton Jetty Swim?
A. I have swum either solo, duo or teams in the BJS at least 10 times and loved each time
Q. What is your biggest challenge with the Busselton Jetty Swim?
A. My biggest challenge is only the conditions on the day, the wind and strong currents
Q. In your eyes, what makes the Busselton Jetty Swim so special?
A. It is the longest jetty in the southern hemisphere, which makes it pretty special. There are lots of people from all walks of life and all ages and abilities who do the swim. I have a fun weekend with my friends from my swimming club during the event and also afterwards. It is always a great weekend
Q. What do you admire about the people that tackle the Busselton Jetty Swim?
A. It is inspiring that people of all ages give it a go in all conditions. This includes many with disabilities
Q. What did you enjoy most about the event?
A. I enjoy the swim itself and all the great activities offered in the jetty area both before and after the swim. It is great that people can also watch the event from the jetty
Q. What did you enjoy most about the South West?
A. The south west of WA is easy to get to and has lots to offer. The caves, the wineries and the surf beaches are all really good
Q. Has the Busselton Jetty Swim inspired you to continue/take up swimming?
A. Yes the BJS inspires me to continue with my swimming. I have swum since I was a young child and still swim regularly through the year with my swimming club. Through swimming I have been fortunate to represent Australia in open water swimming in Athens. Swimming the BJS has encouraged me to do many open water swims in Perth too
Q. Do you have any advice for the BJS swimmers?
A. Have fun, take your time and do your best. Make sure you train well for the event too
Q. What are your future goals?
A. I will continue to swim regularly and do more Busselton jetty swims. I am delighted to be asked to be an ambassador for this great swim